The Club has organised its own Respect Weekend on November 26th and 27th.
We are putting the following in place: –
All teams will have a supply of unique Wyrley Respect wristbands – available at £1 each.
The monies raised from the above will purchase Wyrley FA Respect pennants. These will be presented to every team that club teams play against that weekend.
Photos will be taken before the games – of players and parents of our teams and opponents mingled together.
We have organised a supply of FA Respect tee shirts and literature that will be shared among teams.
We are organising an assistant reeferee course for club 9 a side and 11 a side  team parents at the clubhouse.
We aim to use the weekend to raise the profile of the FA Respect campaign and be leaders in improving behaviour on and off the field. Any suggestions or comments – please leave a message on here.
The flyer below sums up our reasoning behind the campaign.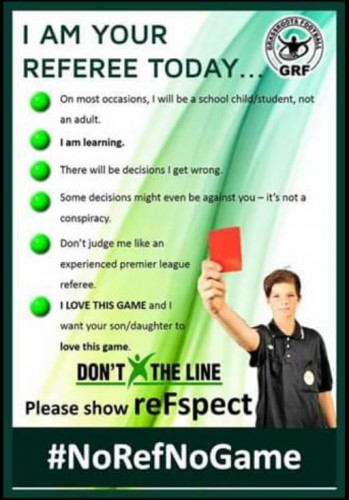 No comments for this entry yet...