The latest Club initiative to support The FA Girls Football Week took place tonight at the clubhouse.
Local Author (and Chasetown FC archivist) Paul Mullins wrote Leah and the Football Dragons over ten years ago, but it was only 2014 when it went to print. It was written to highlight the difficulties some girls had to get a team to play football for.
Although there are far more girls teams out there than ever before, the Football Association's Girls Football Week is there to encourage girls into the game, those who may not know there is a team on their doorstep, those who want to give it a go and have never had the opportunity before.
Some readers of Leah and the Football Dragons have said it reminds them of when they first tried to get into football and it's a sport where the women in the game are trying ever-so-hard to be recognised on the same level as the men's game.
For Christmas 2014 the Club requested donations of presents to give to Birmingham Children's Hospital, and Paul kindly provided a signed copy of 'Dragons' for a boy and a girl.
Paul has kept in touch ever since, and today delivered 120 signed copies to the club that we have purchased to give to all of the girls in our young teams.
Many thanks Paul – it is greatly appreciated!
These will be distributed over the next few days.
Proud to be Wyrley!
Pictured, girls from our Academy, U8s Sabrecats, U8s Wildcats, U10s Panthers and U13s Meerkats with Paul.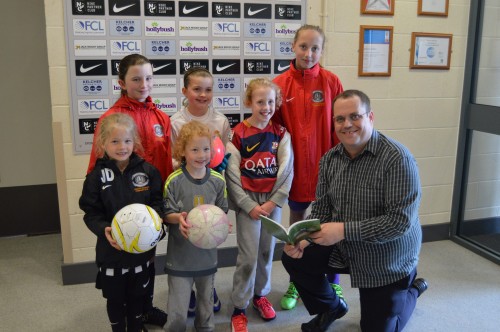 No comments for this entry yet...