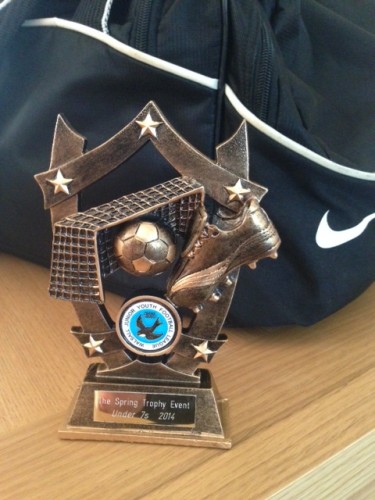 DT cup event second week and all to play for, Panthers were leading their group with Shire Oak and Tipton on the same points. Panthers started extremely well, First goal Josh's superb pass straight from kick off angled a great pass which Richie ran onto and then scored with a wonderful left footed finish. Second goal came from a dangerous Josh corner and Ryan poached and scored an easy tap in after Willo made a nuisance of himself in and around the goal line. 2-0 to Panthers, Ryan then netted a third from a great through ball from Richie in their area 3-0, great awareness to find space. This was some of the best football I've seen from boys of this age, absolutely wonderful. Josh scored a cracking great long range effort to make it 4-0. Half time Fraser Simms came on for Ryan Jones and Vinnie Jones came on for Lukas Purcell (gk). The game started at the same pace. Willo scored a superb solo goal with a great run in the second half for the fifth. 5-0 to Panthers. FC Premier came into the game mid-way into the second half, but Panthers showed great resilience in defending when needed.
Tipton
Crunch time! All to play for as these two teams were leading there group on points, Panthers had a better goal diffence but it could all change. Lukas pulled off a superb fingertip save, but Tipton got the luck of the bounce to score the first. Richie then scored a great left footed strike to equalise one all. Some great defending at the front from Josh and Willo, chasing back to help out when needed. Tipton lost the ball in there half to Richie who passed a quality ball to Ryan and chasing clear to score the second great strike into the bottom left corner. Tipton then managed to score an equaliser despite Lukas's best efforts. Second half Tipton went ahead from a free kick; good strike from there defender! Josh pushed forward and was fouled just outside the area, he got up and put an absolute screamer to equalise just as the ref blew the final whistle. Super performance from team Panthers. Well done.
All our boys deserved man of the match for today's performances, so we have decided to do it like this, here it goes!
Pass of the match Joshua Lester
Save of the match Lukas Purcell
Defender of the match Fraser Simms
Run and finish of the match Ryan Jones
Shot stopper of the match Vinnie Jones
Volley of the match Wilson Cooper
Ran his legs off for the match Richie Williams
Massive well done boys!!! Proud to be panthers
No comments for this entry yet...