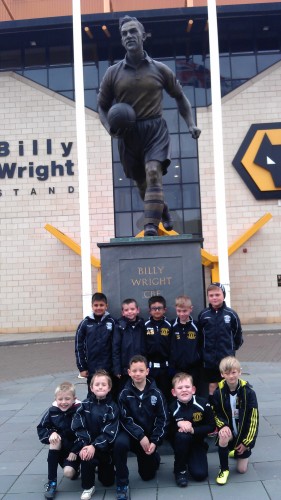 WYRLEY TIGERS U8'S
Imagine the excitement of being able to play in one of the best stadiums in the football leagues (the Molineux). Well this happened to 10 of the finest U8's Wyrley Junior players I've had the pleasure to watch. It was hard to tell who was more excited the players or their parents!
The under 8's tournament consisted of 5 teams from around the Midlands, a great opportunity for the lads to compete against new teams. They played 8 games in total, each game lasting 8 mins, and boy did the Tigers play well. The final results: won 4, drew 2 and lost 2.
Over the past few months the Tigers have been working hard in training, especially on passing and team work. This showed from the start with every player in the team having a vital role in all games. Little Joe scored 2, Armaan scored 1, Arran scored 1 and Scott scored 1. Joe T, our awesome goal keeper, made some excellent saves throughout the tournament. Will, Scott and Lewis played their roles in defence brilliantly making sure very little got passed them. Kian, Cole, Tom and Arran played in midfield with flare, passing the ball around with ease and creating chances on goal on a regular basis. Little Joe and Armaan played up front, both scored from brilliant passing from the midfield.
Every player in the team worked harder than ever and it was a pleasure to watch – well done lads. Here's to the next tournament, keep up the hard work and you will reap the rewards.
written by Martin Wilson
1 comment for this article: