The sun shone on Wyrley Juniors as the Club served up what was probably its most successful tournament yet.
The highlights were: –
– a full compliment of teams entered – over 160 in all! Teams from Cheshire, Shropshire, Derbyshire, Warwickshire and the Black Country took part. Over 1500 players taking part and 5,000 spectators
– every team in the club involved in completing the numerous tasks required to put on such a major event
– all car parking off the road with plenty of room to spare
– all 42 referees turning up and great feedback received re their performance – thank you Jim Kerrigan!
– another quality programme – thank you Gareth! Thanks to the sponsors for their support
– pitches in excellent condition – thank you Gt Wyrley Performing Arts High School and Moat Hall Primary School
– 14 pitches measured and marked in 1 day – thank you Shaun Ponder and Carl Foy for your help here
– great personal support from Bill Hickenbottom for organising the food and cash with great assistance from Kate Foreman and Mark Smallman
– superb electrical engineering from Martin Millard
– great support over the days leading up to and during the event from Martin Whitehouse, Andy Parfitt, Trevor Smith, Martin Cooper, Ade Sheppard, Lisa Ford
– excellent monitoring and communication with teams by Candy Ponder
– a wide range of sideshows
– tremendous control of results etc from Julie & Dave Anstey
AND too many other people to mention! If I have missed anyone off – my apologies. It's the truly great team effort that makes me proud to be part of this Club.
Some photos of the event are posted below.
WE ARE PLEASED TO CONFIRM THAT OUR 2011 TOURNAMENT DATES ARE JUNE 18TH & 19TH – PLEASE MARK YOUR DIARIES! Very sadly, another local club has not only copied our successful format but has chosen the same dates – again! Copying is the greatest form of flattery!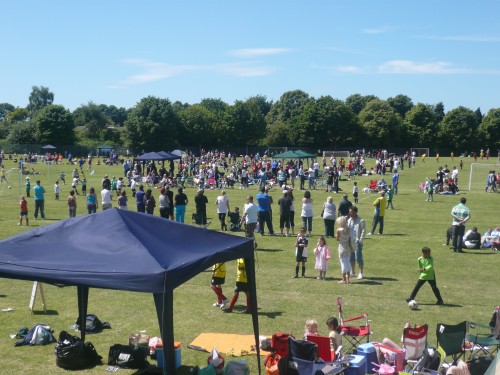 3 comments for this article:
Search wyrleyjuniors.net
If you cannot find what you are looking for please get in touch via the contact page.
Report Abuse
CEOP helps any child or young person under the age of 18 who is being pressured, forced or tricked into taking part in sexual activity of any kind. This can be something that has taken place either online or in 'the real world', or both. The CEOP Safety Centre has clear information and advice on what can be reported to CEOP, the reporting process and what will happen if you do decide to make a report. You can visit the CEOP Safety Centre and make a report directly to CEOP by clicking the Click CEOP button below.

Archives