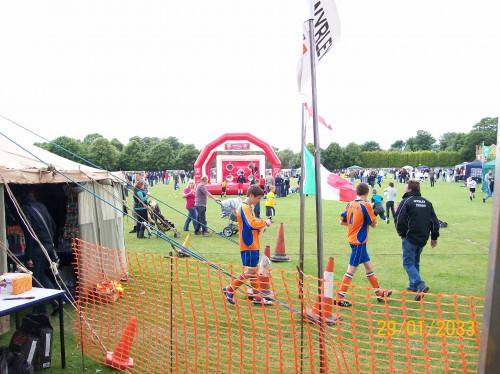 Now we've all recovered from a hectic weekend and the lead up to it, I'd like to give my own thanks to everyone involved in what is looking like our most successful tournament to date.
Bill will provide the financial details at the AGM on the 20th but the highlights for me were: –
Every team carrying out their allocated duties extremely well
Excellent feedback from numerous teams
The fixtures being almost on time across every pitch – special thanks to Dave and Julie Anstey in the Control Room
Selling out of all hot food! – thanks Bill and Dave
Quality of the programme – someone said 'it's like being at a Premier League match!' – thanks Gareth!
All cars parked within the school without the need to use Moat Hall
Referee organisation was excellent again – thanks Jim!
The electric circuit board made it easy for everyone and can be used in future years – thanks Martin!
The 3 inflatables went down well (not literally!)
Getting everything away and in it's right place before 7.30 on the Sunday night
The application process went very well – thanks again Candy
The many sponsors and advertisers and donors of equipment etc
The fantastic team spirit across the Club  to make it a great success – that's what WJFC is all about. We had old friends there helping out – thanks Steve Titley, Maurice Nock, Dave Stubbs and Trevor Foster.
There are too many others to mention – particularly those who take time off work in the lead up to the weekend – EVERYONE gets my admiration and thanks.
We've set the date for next years at 19/20 June  2010 – the planning has already started!
Comments received from Carl Dwyer, Cosford Harriers FC U14s 'Can I just say that we at Cosford Harriers FC had a fantastic day at your recently well run 5 a side tournament!! Many thanks and hopefully see you next year'.  
Keith Hardy, Chairman
Anyone got any photos to put on the website?
1 comment for this article: