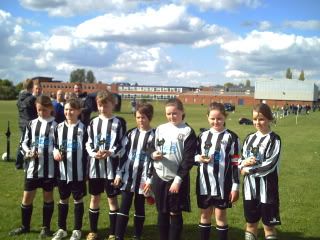 Satuday 25th April 2009.
Cup final, Pumas became runners up not through trying the best just because the Panthers managed to put away 3 goals all the girls tried from beginning to end. With no subs, all the girls played the whole match which they are quite capable of, it was a fast game with a few free kicks given to Panthers which created their chances of scoring. One nil down at half time the team went back on the pitch and worked hard with another two goals scored by Panthers the girls never gave up fighting. Jess and Perce picked up parents player and man of the match which was well deservedby them both.  
Congratulations girls you may have lost but you played extremely well and deserved your place in the final.   
There is always next year, third time lucky !! 🙂