Wyrley Under 14s Girls were in fantastic form to beat West Ham United Ladies 1-0 at the Butlins Minehead Tournament over the weekend – the only team to do so!
Every one of the squad played their part in a superb perfomance – the effort put in from kick off to the final whistle was unbelieveable and we fully deserved our victory. The girls stopped West Ham's passing game in the first half by constantly closing down, making their tackles count and with some fine goalkeeping when required. Second half saw West Ham become much more physical and direct………..but our girls can handle that too!!!! Then when the opportunity came our way a looping header from Kiera left the 'keeper with no chance. Absloutely fantastic Wyrley!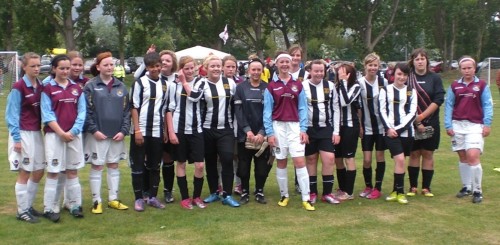 Squad: Ellie Deakin, Cara Turner, Chloe Andrea, Chloe Arthur, Emily Scott, Keeley Dabbs, Jess Arthur, Kiera Turner, Chan Clarke, Hollie Hinsley
More to follow from the tournament….but we couldn't wait to tell you all about this one!!