The Club's 25th Annual tournament is taking place on the following dates, with age groups, structure and costs as detailed: –
Age groups are as 2021/22 season with format that teams will play in 2022/23 season (as per Staffordshire County Girls & Women's League and Walsall Junior Youth League structure)
Saturday June 11th
Morning
U8s Girls (7 v 7)
U7s Boys (5 v 5)
Under 13s Girls (11 v 11)
Afternoon
U9s Girls (7 v 7)
U8s Boys (7 v 7)
U13s Boys (11 v 11)
Sunday June 12th
Morning
Age 6 boys (5 v 5)
U9s Boys (7 v 7)
U14s Girls (11 v 11)
Afternoon
Age 6/7 girls (5 v 5)
U12s Boys (11 v 11)
U14s Boys (11 v 11)
Saturday July 9th
Morning
U10s Boys (9 v 9)
U10s Girls (9 v 9)
Afternoon
U11s Boys (9 v 9)
U11s Girls (9 v 9)
Entry Fees 5 v 5 and 7 v 7 £35. 9 v 9 £40. 11 v11 £45.
The tournament will be affiliated with Staffordshire FA as usual. No academy team will be allowed in to the tournament.
There will be qualified independent First Aid official on site, licenced bar, hot food, hot and cold drinks, inflatables and ice cream man.
To enter the tournament, please download an entry form by following the link below and email to kateforeman67@gmail.com
The tournament is extremely popular, so we suggest you enter as soon as possible.
Full tournament details: –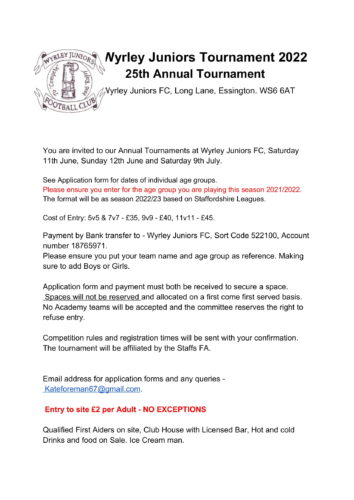 Application form: –